A SURVEY FOR CONSUMERS AND FOOD & BEVERAGE ESTABLISHMENTS IN HA NOI AND HO CHI MINH CITY WAS CONDUCTED IN MAY 2020. BASED ON INITIAL VALUABLE RESULTS OF THE SURVEY, THE PROJECT PLANS THE NEXT STEP FOR COMMUNICATION ACTIVITIES AND INTERACTION WITH FOOD & BEVERAGE ESTABLISHMENTS..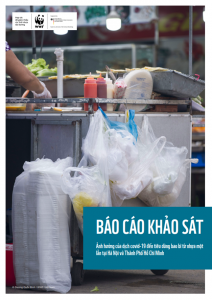 The objective of the survey is to identify the demand for single-use plastic products and packaging (PP&P1), the impact of COVID-19 and the underlying issues associated with the increased use of PP&P1 in food and beverage establishments. The public perception and the readiness of the target audience in the adoption of PP&P1 mitigation measures are also presented in the survey.
Main methods included a secondary literature review, questionnaire, telephone interviews and online surveys (e.g., email, social networks – Facebook). In the survey, 31 F&B establishments and 194 consumers in Ha Noi and Ho Chi Minh City were asked questions concerning their needs, perception and behaviours.
RESULTS
Findings of the study include:
Firstly, demand for PP&P1 is observed in both food and beverage (F&B) establishments and consumers. Nylon bags, wrapping paper, plastic bottles, foam boxes and plastic cutlery are the most-used types of plastic. Some F&B establishments already carry out testing eco-friendly alternatives for plastic packaging; however, the perception of F&B establishments on the impact of plastics on human health is still limited. The perception that PP&P1 has a competitive edge over biodegradable products is prevalent, resulting in the consistent use of PP&P1 among consumers and F&B establishments. Secondly, the essence of food and beverages in daily life is a great boon to online purchases, particularly during the COVID-19 pandemic. Increase in online shopping has led to a surge in PP&P1 demand. Given the development of science and technology, e-commerce platforms and third-party technology companies, it is projected that F&B establishments and consumers' online selling and buying habits will contribute to higher consumption of PP&P1.
Thirdly, the number of F&B establishments informed of previously announced regulations and policies on PP&P1 is still limited. Particularly, the lack of information on the availability of alternative products has encouraged the habit of using PP&P1 in Ha Noi and Ho Chi Minh City (HCMC)
Fourthly, the desire to use eco-friendly products as the replacement of PP&P1 is observed in both F&B establishments and consumers. However, the costly prices, inconvenience and unavailability of these products present barriers to the switch. Furthermore, there is an "unresolved difference" between consumers and F&B establishments. While consumers are willing to pay extra costs for eco-friendly packaging, F&B establishments feel hesitant to charge more for their products and services (more than 50% of F&B establishments considered charging extra costs for packaging inappropriate)
In conclusion, consumption of PP&P1 might continue to increase in the short term. However, in the long term, it is expected that this behaviour will become "greener" – or more favourable towards eco-friendly products. Management of PP&P1 consumption behaviour models requires the involvement of a variety of stakeholders with regulators, F&B establishments and consumers playing influential roles in decision making. Efforts to change this model include a focus on 03 (three) key players, and also on 04  (four) factors that have a certain influence over PP&P1 consumption, including Science & Technology, Government's Policies & Regulations, Packaging Market and the COVID-19 Pandemic.