ON THE MORNING OF OCTOBER 28, MR. VU TUAN NHAN, DEPUTY MINISTER OF NATURAL RESOURCES AND ENVIRONMENT, WORKS WITH THE REPRESENTATIVES OF WORLD WILD FUND FOR NATURE-VIET NAM (WWF-VIET NAM) ON THE LAUNCH OF NATIONAL PLASTIC ACTION PARTNERSHIP (NPAP), PLANNED TO TAKE PLACE AT THE END OF NOVEMBER
(Source: NATURAL RESOURCES AND ENVIRONMENTAL NEWS)
National Plastic Action Partnership Program (2020-2022) is part of the Letter of Intent on Cooperation in Plastic Waste and Circular Economy, signed by the Ministry of Natural Resources and Environment and the World Economic Forum (WEF) in January 2019. WEF and WWF then signed an agreement, saying WWF now acts as the governing body, representing and supporting WEF in the implementation of the program in Viet Nam. NPAP Viet Nam is also a part of Viet Nam's commitments upon participation in the Global Plastic Action Partnership (GPAP).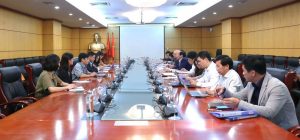 Overview of the meeting
Dr. Van Ngoc Thinh, WWF Country Director, explained that the main content of NPAP is centred around solid and plastic waste. The main objectives are to support the development and implementation of a circular economic framework in Viet Nam, reduce plastic pollution and assist the Government's strategy on sustainable development of Viet Nam's marine economy by 2030.
According to the Department of International Cooperation, on September 04, 2020, the Ministry of Natural Resources and Environment reported to the Prime Minister on the implementation of the NPAP by Letter no. 43/TTr-BTNMT, and received guidance in Office Letter no. 7893/VPCP-QHQT dated September 19, 2020, by the Office of the Government. In the Office Letter, the Government delegated the prime responsibility to the Ministry, requiring the Ministry to work with other Ministries, industries, local authorities and international organisations to launch and implement NPAP in Viet Nam.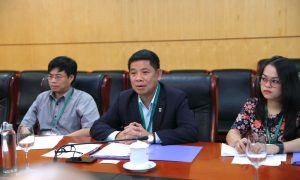 Mr. Van Ngoc Thinh – WWF Country Director (middle) speaks at the meeting
Deputy Minister Vo Tuan Nhan acknowledged the significance of the NAPA, saying that the Launch of the National Action Plastic Program shall take place in the last week of November.
The Deputy Minister asked the Viet Nam Environment Administration, Viet Nam Administration of Sea and Islands, Department of International Cooperation to work closely with WWF for efficient implementation of the NAPA.
The Deputy Minister suggested WWF and the Ministry of Natural Resources and Environment build a specific action plan to clearly and practically describe the program during the implementation phase, right after the launching program.